Introduction
You are not the only one who is aspiring to become a guitarist. There are multiple out there who are interested in learning guitar. Well, planning to become a well-versed guitarist can be easy only if your dedication is way more than that of your excuses.
When selecting online music lessons, many factors need to be taken into account. We'll go over the various course options and their advantages in this article so you can choose the course that's best for you with confidence! We understand that in a place where there are so many people and options available for learning different types of activities, finalising one specific venue might get difficult. That's when the search for guitar learning classes begins.
If you want to know how to learn guitar online then here are a couple more blogs that will give you an insight about playing this melodious music instrument.
8 Steps to Learn Guitar: Guitar Lessons for Beginners (add link when posted)
How to Learn Guitar Online: 10 things you have to know for sure (add link when posted)
What should one look for when searching for guitar beginning lessons?
There are a few things you should consider when looking for online music courses.
First, confirm that a qualified instructor is leading the class.
Second, the lesson plan should be engaging and interactive.
The cost of the class comes in third.
When selecting online music classes, keep the following in mind
An experienced educator has the skills necessary to instruct students better. They are skilled at making learning fun and ensuring that they grasp the lessons being given.
Interactive and engaging lessons:
Learning is significantly influenced by social interaction. The ability to organize one's thoughts, consider one's understanding and identify gaps in one's logic have all been shown to be enhanced by social interaction.
Affordable source of learning:
Why spend unnecessarily when you can avail the benefits of music learning through affordable means? It is always recommended that you choose an affordable yet reliable institute for learning guitar or any instrument as taking care of the budget is necessary.
Since online music has been quite popular and has proven to be a better option as compared to offline music learning. Let us jump on the benefits of an online guitar learning course.
There are numerous options available when it comes to learning guitar. Online music lessons are an alternative to conventional in-person instruction. For those who are busy or live in remote areas, taking music lessons online has many advantages and is a great option. A few benefits of taking music lessons online include:
You can study music and refine your guitar skills from the comfort of your home by enrolling in online guitar lessons. Additionally, it saves you the time spent traveling to and from your guitar lesson.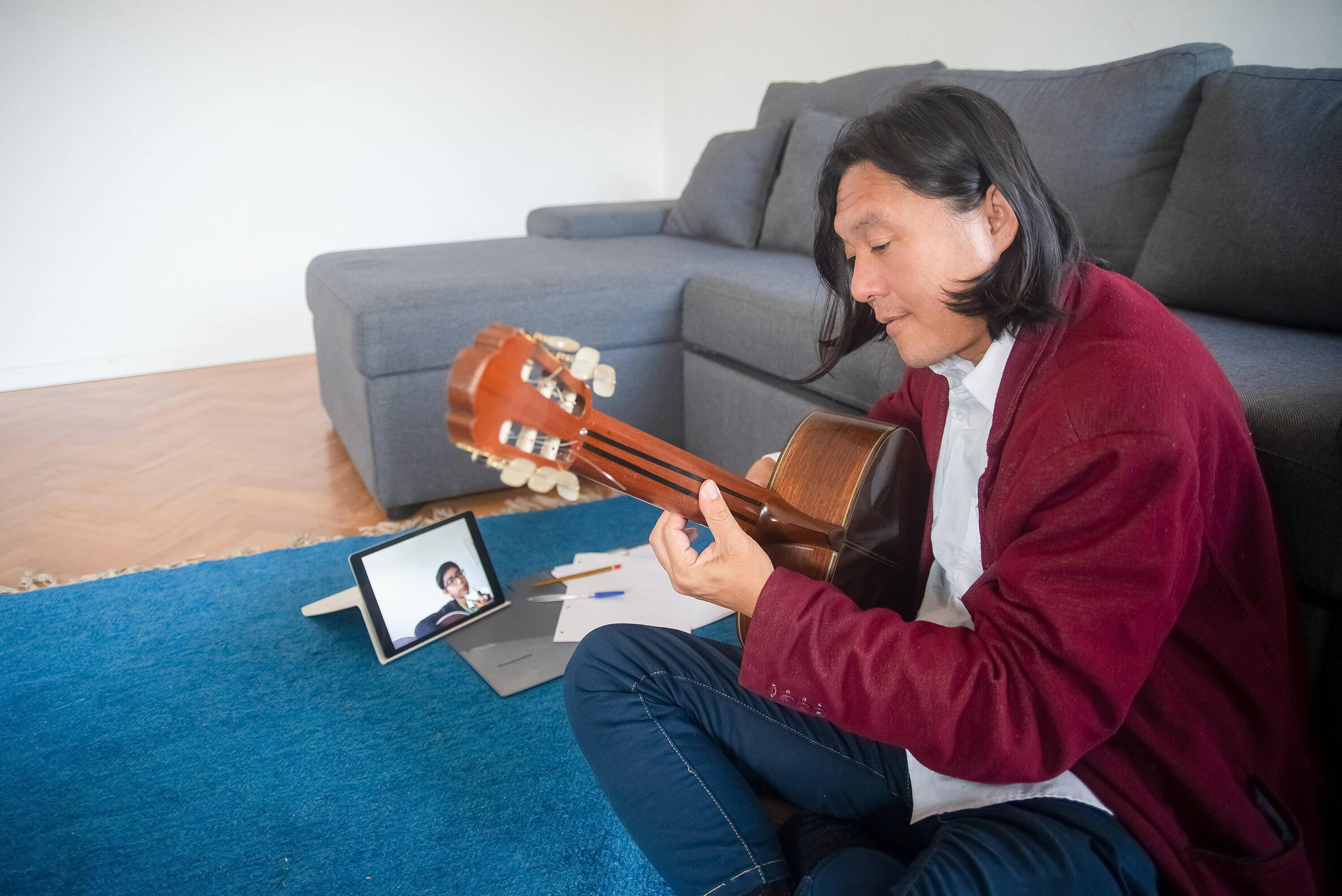 Online guitar lessons typically cost less than in-person lessons. This may be primarily related to supply and demand. Moreover, expenses tend to decrease because you can simply sit back at your home and learn guitar without spending a huge amount on travel.

It has flexible hours and convenient class scheduling because there is no travel involved. You don't have to miss an important office meeting or put your hobby on hold just because you have a job—you can simply carve out some time for yourself to attend the class.
Meeting reputable guitar teachers is one of the benefits of taking lessons online. There is no room for supposition on this platform in terms of the trainers. All of the vocal trainers who offer these services are typically subject-matter specialists. We at Artium Academy, make certain that the guidance provided is handled by experts simply by staying at home rather than looking for offline classes for the same.
It's very well known that online guitar lessons are pretty effective and helpful. Now the question arises how can one find the right platform to learn guitar?
There are a few things you need to keep in mind when looking for online guitar classes. You must first and foremost confirm that the class is being offered by a reputable source. It's important to conduct research before enrolling in any classes because there are many fly-by-night businesses out there that will try to take your money without giving you anything in return.
When you choose an institute to learn to play guitar, it should have a good reputation. You cannot randomly jump onto any music class. It is always recommended that you choose an institution that has a good name in the eye of people.
The credibility of the venue:
You cannot simply rely on anything and everything that is being conveyed to you. Hence, going through the reviews and ratings and searching for the certificates achieved by an institution can be beneficial in deciding the reliability of the academy.
Background of the instructors:
Will you be satisfied with unprofessional teachers? Surely not! That's a normal tendency. We all wish to learn from professional instructors as it builds trust and confidence. At Artium Academy, we make sure that the instructors being chosen are professionals in their specific fields.
There has been a lot of discussion on what are the benefits of learning guitar through online classes. Now is the time to look at the points that should be kept in mind while you start playing the guitar.
Keep exercising your hands well:
Did you know? Your fingers are moved by 35 different muscles and you're going to need each of those in order to get your guitar strings to hum the way you imagine them to. Therefore, remember to warm up and stretch before practice, especially at first.
Take good care of your instrument:
You've been practising every day and making great strides in the pursuit of your objectives, but one day during a particularly intense session, you might break a string. Here it becomes important to make sure that you avoid this thing by taking good care of your guitar.
Practise can be boring but don't quit:
Guitar practice can become very monotonous, just like anything else. It's very easy to give up and play something simpler after practicing that new scale or picking a pattern 100 times. Just remember to keep moving and you'll be a great guitar player in no time.
Conclusion
Now you know the points that will help you choose the best guitar learning classes near you, it is time for you to find a reliable institution. Make sure that the music academy has qualified teachers and has interactive sessions to make learning fun.
At Artium Academy, we have great online guitar classes for beginners with excellent reviews and ratings. The Industry experts being the faculty heads have made learning an extremely easy and interesting process. No more searching for online guitar courses, if you want to learn to play the guitar, our singing academy is here to offer you the best of teachers and the right knowledge to do so.