Introduction
So you've heard that you can learn to play the piano online! However, it appears to be too good to be true. This does not imply that you can just search for a song on YouTube, watch a video, and immediately know how to play. So, let's talk about how to effectively take music online classes and learn how to play your favorite songs, as well as the benefits of learning the keyboard.
Benefits of Online Learning
The benefits of online learning are endless. You eliminate commuting, rigid schedules, high tuition, and even unwanted teaching styles.
It's convenient
Keyboard learning classes can be handy and adaptable. You may take advantage of any comfortable learning wherever and at any time, whether you are a student, a 9-5 job, or a retired person. You don't have to worry about losing money if you fall sick and have to cancel a lesson too late.
Personalized classes
For the longest period of time, the only method to learn the piano was to find a teacher. With an online teaching collection, you may customize your learning experience to your specific needs. Don't worry if you don't enjoy classical music; you can just attend a trial lesson to see what interests you more. Teaching may now be done in a 1:1 live class style with only the teacher and the student, allowing you to progress at your own speed.
It's more affordable
The reality is that piano lessons may be rather costly. Any online learning approach will be far less expensive than in-person one-on-one courses. At Artium Academy as well, depending on the level you choose and the number of sessions it has, it is cheaper than traveling and going to a class.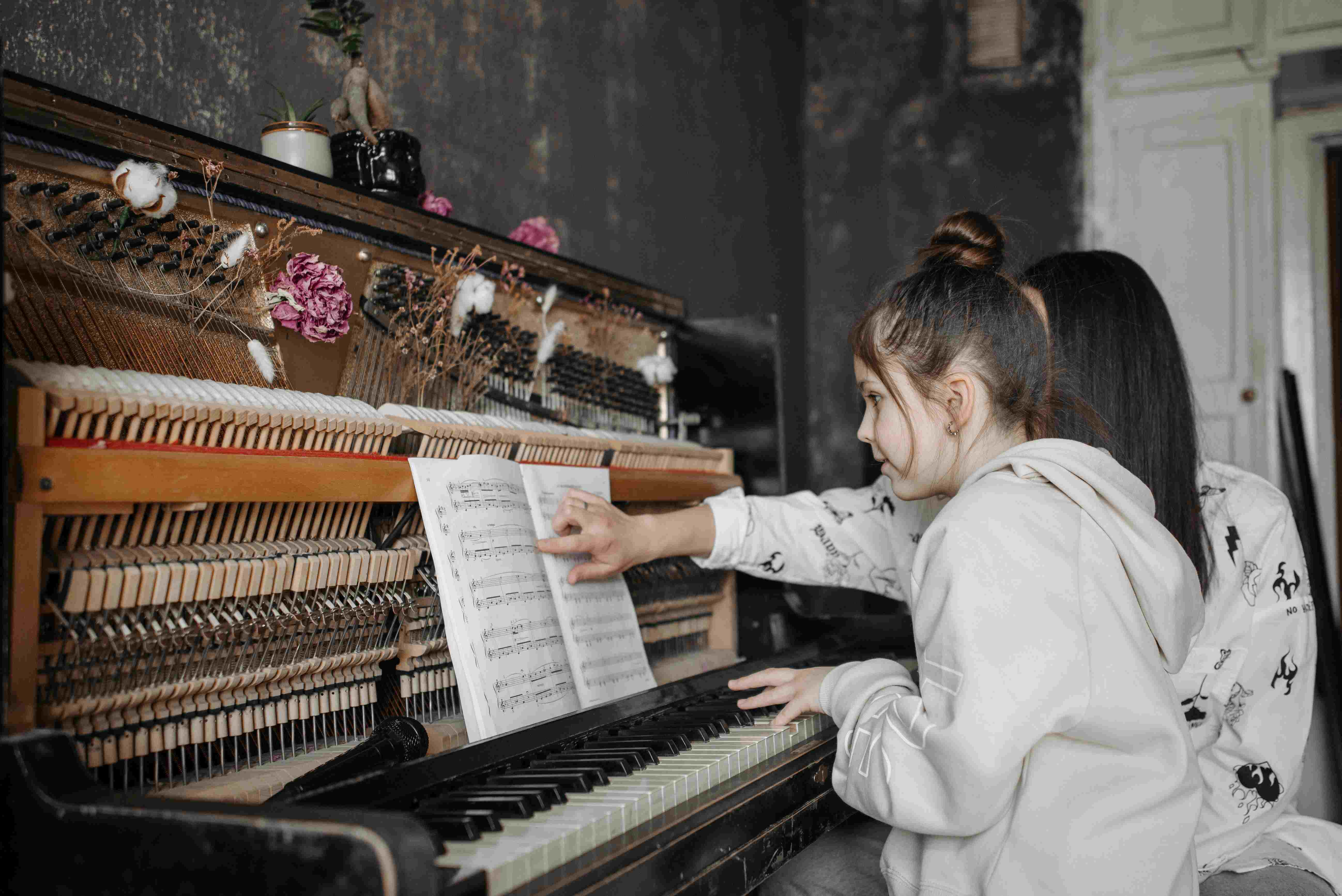 How to Successfully Learn Piano Online
Yes, you may study piano online and save time and money. However, if you do, there are some recommended practices to be aware of. Some of these have previously been noted, but they need repeating.
Invest in a strong foundation
Find a learning program that does not skip over the fundamentals. It is worthwhile to invest time and money in the fundamentals:
Correct method
Chords and scales
Music theory fundamentals
Understanding chord theory and simple chord progressions may unlock hundreds of popular tunes.
Dedicate a proper timing
Make a commitment to learning piano on a given day for a specified length of time, just as you would go to your teacher's house every Saturday.
Aside from online instruction, even setting aside 10 minutes for practice makes a significant improvement. You'll probably wind up practicing for more than 10 minutes if you can sit down. So set aside some time when you won't be distracted for piano practice. Better yet, set goals for yourself.
Remember your WHY factor
Let's be honest: Learning the piano isn't simple. You're sure to run across problems. You will undoubtedly have days when you do not want to practice. Prepare for it and remember why when it happens.
Why do you want to learn how to play the piano in the first place? To resume where you left off with your childhood lessons? To play that one George Duke song that transformed your life? Alternatively, simply learning a new instrument.
If you're serious about learning to play the piano, practice must become a regular part of your day. Find a technique to make it fun again if you find yourself loathing it after a time. Learn a delightful tune from your childhood or a favorite section of a song that you regularly hear on the radio.
The greatest approach to learning to play the piano, or any instrument, is to just practice. Whatever your motivation is for learning the piano, it is what will keep you going.
Start your musical journey
Congratulations! You've made it this far, which means you're that much closer to fulfilling your musical dream. So let's take it one step forward and bring you the best music academy for online keyboard classes.
Technology and tradition collide at Artium Academy. We are adamant about making music education accessible to everybody. Our economical piano lessons are ideal not just for children, but also for adults who might otherwise be too shy to try learning a musical instrument.
Modern method
Our technique is a step-by-step tutorial for learning to play the piano. You'll go from never having touched a piano before to playing performance-ready music in three levels. All courses are created by industry specialists such as Sonu Nigam, Louis Banks, Aruna Sairam, and others.
Real teachers, real feedback
Here you can get personalized guidance from teachers. Classes are taken in a 1:1 format where you can discuss and learn face-to-face. Learn music theories, techniques, cords, and more.
Your first gig
Your first gig! Every student gets to perform for an audience. We've worked hard to design an easy-to-use interface that gives you the best opportunities and a platform to showcase your talent.
Conclusion
Learning piano online is much more easy than you think. Start by taking small steps and join our online music academy to build confidence. Learn at your own pace, get expert lessons from real teachers & world-class pianists, and join a community of supportive piano players. Start your piano journey now and fall in love with music even more with Artium Academy.